This semester we will create 'tabletop' exhibitions, with works from the Letterform Archive in collaboration with Kate Long, Librarian at LFA. We will materialize these shows in two ways: via the new 'tables' feature on their digital web archive; and as a printed takeaway that can be circulated by mail and entered into Letterform Archive's collection.
Each group will be responsible for the following:
One tabletop exhibition consisting of 2 or more objects manifested on Letterform Archive's Online Archive and in print for distribution (via the mail)
Label text for each object
A mission statement
11 ✕ 17 inch ratio poster promoting the show
Digital graphics to promote your show on LFA's website
While there are 5 (arguably 6) deliverables per show, some deliverables can perform multiple functions. For instance, the printed version of your show can be a single paper, that acts as your promotional poster, label text, and the show itself. However, these decisions should be in service of making the show as compelling as possible and not just to save time.
These exhibitions must be in dialog with the rest of the course's content – they can respond directly to the subject your group is working with, or to the broader subject matter of the exhibition series. Your show's topic is open – however, you must be able to articulate how your show fits into the larger framework of the course. Some topics to be considered are: the history of graphic dissent; design for evasion and self-preservation; and graphics in propaganda and political movements.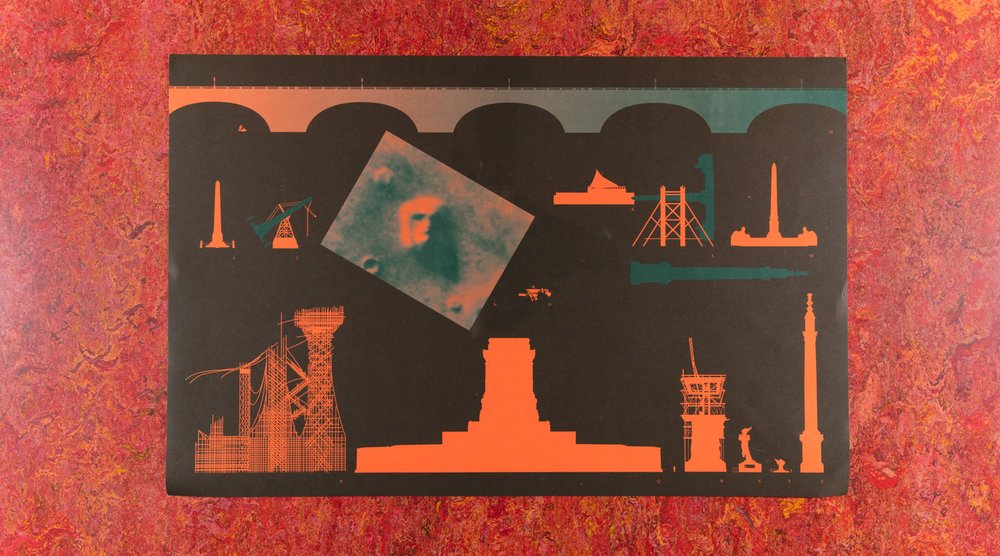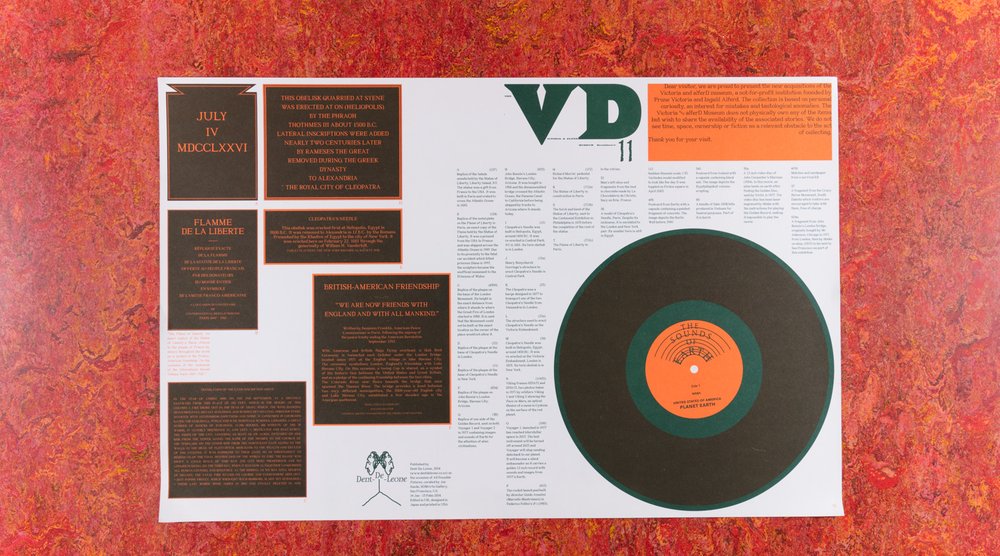 Victoria and alFerd Museum No. 11, Åbäke
When conceptualizing and actualizing your exhibition, pay special attention to your roles as curator, and writer. How does the arrangement / representation of your items extend their narrative and the viewers understanding of them? How do your chosen artifacts in conjunction with your writing – of a mission statement, and label text – triangulate to tell a rich story
Furthermore How does the 'tabletop' format privilege certain objects, and viewing experiences? How does this relationship change since there is no dedicated physical tabletop for us to use? Given our shelter-in-place moment, how can the show represent, and embody itself beyond the screen? Can you distribute instructions for creating a spatial experience in ones home? Do you use 3d renderings and photoshop to imagine a speculative gallery in which the tabletop lives? Does your exhibition fold into a voluminous object?
We will have organized check-ins with Kate from Letterform Archive, however the project will require you to do independent research – reaching out to Letterform Archive on your own to arrange additional meetings. Kate has generously volunteered to meet with you at your request, but you must be timely and proactive. Do not let this opportunity go to waste!
---
Schedule
Week 01: 08.31 - 09.05
Kickoff Tabletop Exhibition Project
Week 02: 09.06 - 09.12
Sync up with Kate from LFA
Week 06: 10.04 - 10.10
Present Tabletop Exhibition Concepts
Week 09: 10.25 - 10.31
Launch 'Tabletop' Shows with LFA*
*Table is created on LFA's website, print exhibition is in the mail, promotions posted online
---
Letterform Archive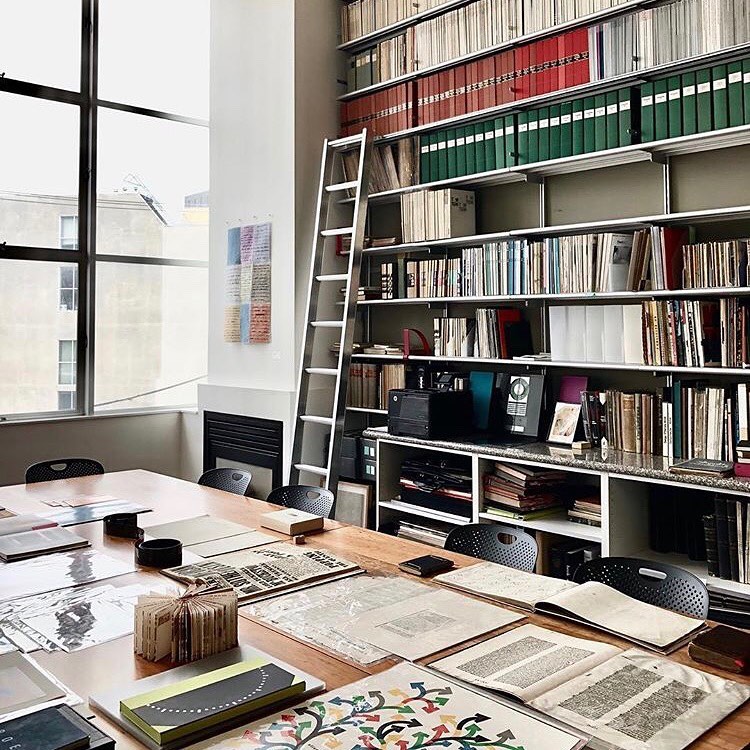 The Archive was founded by Rob Saunders, a collector of the letter arts for over 40 years, as a place to share his private collection with the public. We opened to visitors in February 2015 and now offer hands-on access to a curated collection of over 60,000 items related to lettering, typography, calligraphy, and graphic design, spanning thousands of years of history.
So far, the Archive has welcomed over 10,000 visitors from 30 countries, including students, practitioners, and letterform admirers from every creative background. Some come with specific research ideas in mind, while others are simply looking for inspiration. Invariably, thanks to the breadth and accessibility of the collection, they stumble on something unexpected. Serendipity is key to the Archive experience.
In addition to hosting visits and public events, the Archive serves a global community through social media, state-of-the-art photography, and publications. We offer courses and workshops in type design, calligraphy, and typography. We also curate exhibitions of our holdings, organize lectures by visiting artists and designers, and host salons and receptions to showcase collections or celebrate out-of-town guests.
The Archive is located on Ramaytush Ohlone land in the Dogpatch neighborhood of San Francisco.
Kate Long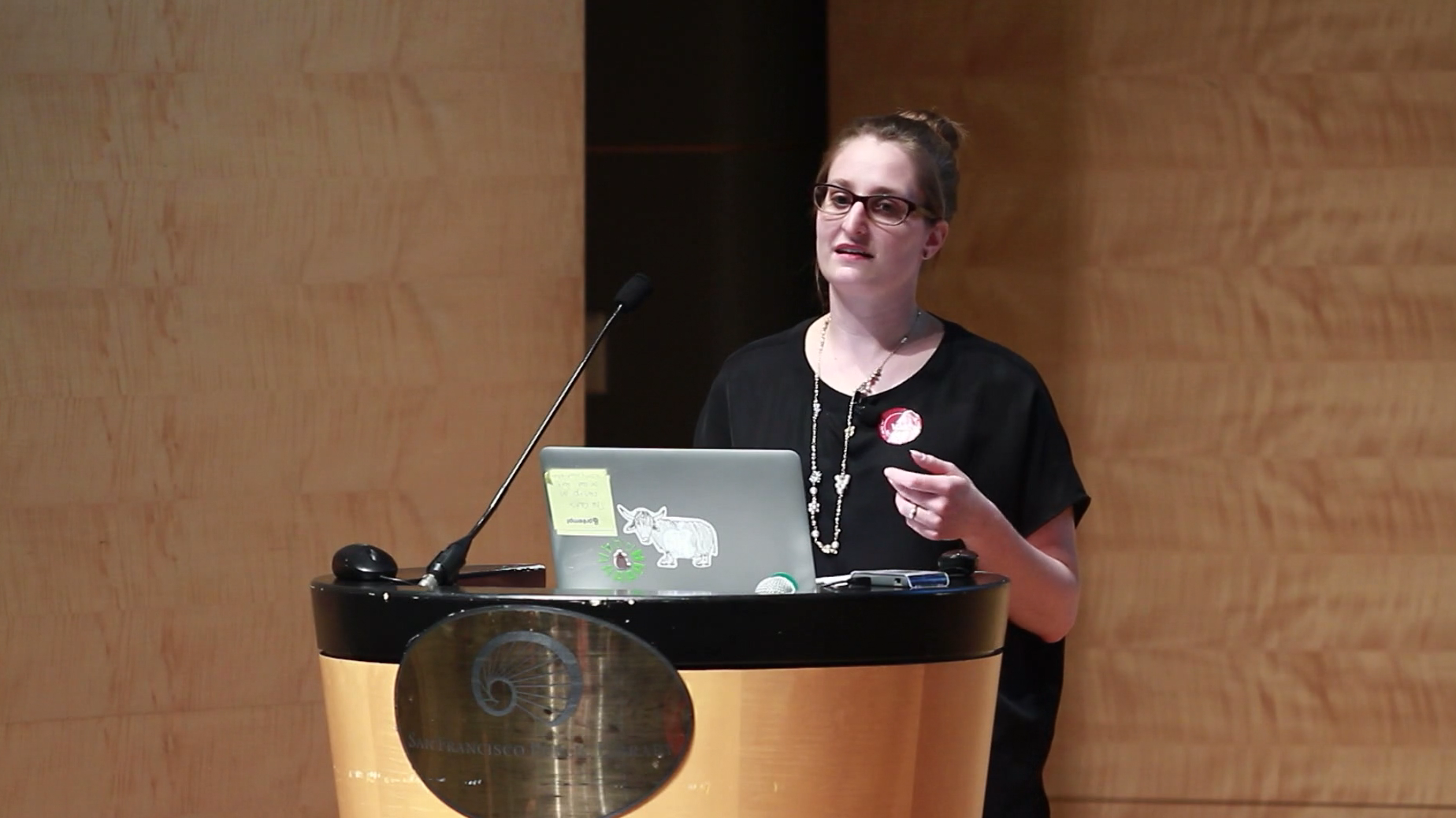 Kate Long has a profound interest in book arts, typography, and concrete poetry, stemming from high school where she made art with abandoned Letraset, and later as the editor of a literary magazine where she enjoyed working with designers, artists, and writers. She also gained an appreciation for 20th-century graphic design while at the award-winning studio, Office. Kate earned her MLIS through Drexel University, which will serve her well as she helps to preserve and catalog the collection. She relishes helping people access the things that interest them.